Tailored contract packing services and filling company
December 10, 2021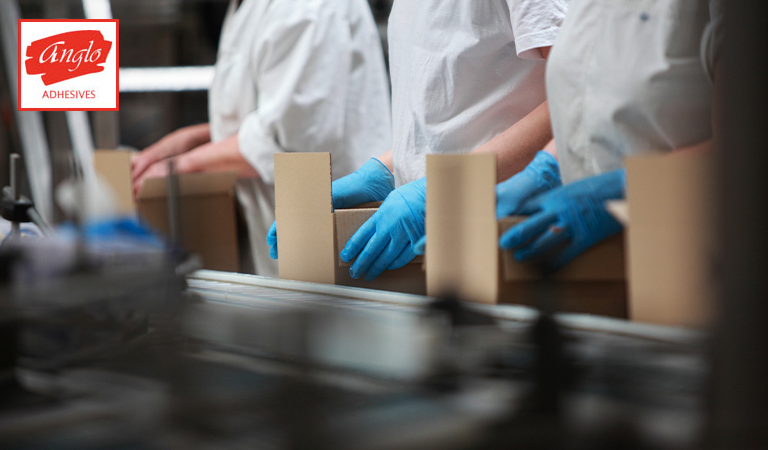 If you are looking for a business to partner with who can support you with your contract filling requirements, Anglo Adhesives can help. We are an independent specialist adhesive manufacturer and supplier based in Melton Mowbray, Leicestershire and our Filling and Contract Packing services compliments the full 'Anglo Package' 
Since 1905 we have built our reputation for excellence in the manufacture of specialist adhesives and supply to many industries including footwear, insulation & construction, Sign & Point of Sale, Plumbing & Sanitary Repair, education and furniture. with our unique products which we manufacture, pack and label in-house. In addition, we are renowned as a business that provides a flexible filling and contract packing services. We have offered this service to our customers almost from the outset, providing 'retail ready' packaging for those who require it.
---
Why use Anglo Adhesives for your contract packing services?
We work closely with our customers, taking time to get to understand their process requirements and overall contract filling needs. We are well known for providing a quick turnaround and flexible approach in many market sectors.
Our filling machines fulfil any contract packing service requirements with incredible attention to detail from start to finish. We can fill any container with any product, regardless of container size and quantity. Our strict processes ensure that we fill precise measurements to secure excellent quality control.
---
Filling service
We are often required to carry out large production runs for major chemical, adhesive and paint manufacturers which we fulfil with precision and often to tight timescales. We frequently get asked for different packaging and labelling ideas which we personalise to our customers products. This flexible, forward thinking approach has won us praise within the sector for providing innovative contract filling and packaging solutions.
In addition to our contract filling solutions, we take the stress away from our customers and source appropriate packing and containers no matter what the volume as well as label to keep your supply chain in one place and avoid unnecessary transport costs. So whether you are looking to fill bags, bottles or boxes, we deliver the complete contract packing services.
---
Contract packing services
At Anglo Adhesives, we have the ability to repack non-liquid materials and powders. If you are looking for a bespoke repacking service, please get in touch. We can be particularly flexible with non-standard requests and odd sizes. 
"We feel strongly about developing our offer so that more customers can benefit from our expertise in our  filling and contract packing services. Thanks to our flexible processes, investment in technology and equipment, you'll be able to take advantage of Anglo's fully tailored service ," explains Charlotte Davey, Managing Director, Anglo Adhesives.
"As with all of our services, confidentiality is key. We understand the importance of keeping your business information safe. We never disclose any information regarding your business or products to anyone – You can trust us – we've been doing this for years!" adds Charlotte.
---
Toll manufacturing
If you are looking to get a product to market without having to invest in equipment, resources and staff, you can use our industry-leading toll manufacturing service which we've been honing for years.
As well as being a leading contract filling company, Anglo Adhesives also has the experience, expertise and the manufacturing facilities to fulfill all your bespoke toll manufacturing requirements. We deliver this specialist service to many industries, taking the stress away from our customers and delivering high quality end products.
We are extremely flexible and will adapt our protocol to follow your needs; working closely with you to produce and pack exactly as you require us to.
---
Get in touch
If you have any questions for our technical team or enquiries about any of our contract filling, toll manufacturing or contract packing services, please call us on +44 (0)1664 480 866 or email us: sales@angloadhesives.co.uk