My First Three Months at Anglo Adhesives
June 12, 2019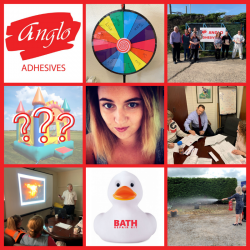 After six years of working in estate agency combined with five years of marketing administration, I knew the time had come for a new challenge. I took the decision to branch out & joined Anglo Adhesives at the beginning of March as their new Marketing Administrator, and what a massive change it has been!
Whilst I have a fair amount of experience in marketing, I have little knowledge of the industries Anglo are in, so I came here ready & eager to learn.
In depth marketing is a fairly unexplored area for Anglo, so rather than picking up where someone else had left off, I was starting from scratch. This is giving me a huge amount of scope for creativity, an endless list of things to try & lots of 'Light bulb Moments' in the middle of the night! An exciting but equally daunting prospect!
In my first few weeks, I spent time looking over the company websites, deciding what needed to be updated & implementing those changes.
I have taken over dealing with the sales of our Acrylic Bath Repair Kit as well as responding to the many weird & wonderful enquiries we receive from people who have damaged their bath or shower tray, including one from a gentleman who was extremely grateful that our kit would not only save him the cost of a new bath but would also stop him being in trouble with his wife! This has included an afternoon of Bath Repair Kit training with our Chief Chemist, Terry Lake as well as Sales Administrator Lisa McDonald!
I created new social media accounts for the business, worked on gaining reviews on Trustpilot with all kinds of promotions going on, began making plans for seasonal marketing for the rest of 2019, started to get to know some of the customers & purchased a 'Wheel of Fortune' to be used to draw the winners of any competitions we run (though it's currently being used to decide who's turn it is to make the tea!).
I've had training with Michelle Jones from Ketchup Marketing where I learnt how to use WordPress & how to write blog posts and ensure that they are SEO friendly.
I am getting to know my fantastic new colleagues, learning the processes of the business & bringing new ideas to the table.
In the coming few months, I have plans for newsletters, monthly promotions, new products & packaging, charity fundraising & even rubber ducks!
I'm really looking forward to getting further 'stuck in' at Anglo, getting to know the business & customers & putting our adhesives and repair solutions firmly on the map.
You can read more about our team & other company news on our blog by clicking here.
Stay up to date with all of our company news & blogs on Facebook, Twitter, LinkedIn & Instagram.
If you currently use our products, please feel free to tag us in your work. We love to see our customers creations & you may feature on our social media channels too!
You can get in touch with our team on our Contact page here.