Artcraft Fabric Paints UK Range
February 14, 2020
Our Artcraft division produces and sells a broad range of products across a variety of art and craft disciplines. One area where we have concentrated our efforts in recent months is in our selection of Fabric Paints UK.
Our range of Fabric Paints in UK is ever growing, currently offering over twenty different colours from cool pastel hues up to intense neon shades, shimmering pearlescents to bold and bright primary colours.
Fancy something really special? Check out our amazing glow in the dark fabric paint! Not just for Halloween! Brilliant for parties or nights out. You could even create a starry sky on your child's (or your own) bedroom curtains!
All of our Fabric Paints are available in a selection of sets and packaging options. 25ml squeezy application pens, 60ml and 100ml jars, right up to 250ml bottles.
Every set of Fabric Paint comes with an informative instruction sheet detailing how to achieve the best results.
With Festival season just around the corner, our range of paints are ideal for customising flags, banners, clothing, even wigwams – there is no reason to be lost in the crowd!
We are sure to have a product suitable for you. Whether you are writing a name on a t-shirt or designing a costume for a fancy dress party or school play, no matter what you are creating, our Fabric Paints UK could be the solution you have been looking for!
Our favourite customer creation so far has been this wonderful Freddie Mercury gymnastics costume. This was one Mum with a great creative vision!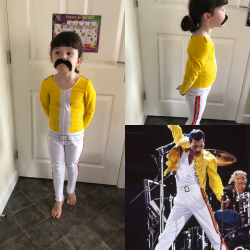 Check out our Artcraft product range on our Facebook Shop by clicking here.
We really love seeing your creations!
Please tag us on Instagram or Facebook or send us images of your own crafting genius to marketing@angloadhesives.co.uk and you could feature on our social media!
Find out more about our Artcraft division by following us on Instagram and liking us on Facebook!
You can contact us about our Artcraft products on +44 (0) 1664 480866
or email sales@angloadhesives.co.uk
Alternatively, you can fill in our contact form here.