Anglo Adhesives Fire Safety Training
May 31, 2019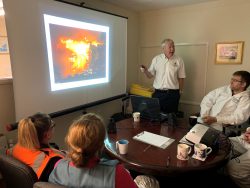 Yesterday, Anglo Adhesives played host to Ian Copstick from IMC Fire Consultancy LTD, who came to deliver fire safety training to the Anglo team.
Since Ian's last visit to Anglo HQ we have had a few new faces join our team!
The training was split into two sessions and comprised of a presentation on fire safety, some video footage showing various types of fires and the behaviour of the people involved, some hazard awareness training & finally (the fun part) the team got to have a play with some fire extinguishers!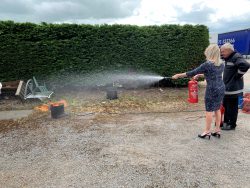 For the team members who had taken part in Ian's training on his previous visit, this training acted as a refresher course, while the new team members learnt how to act in a fire & the importance of fire safety in our workplace, particularly as we deal with so many hazardous materials.
All in all, it was a brilliant day & the whole team came away with a positive attitude towards fire safety.
A huge thank you to Ian for coming out & delivering his training, we hope we'll never need it, but we're definitely all prepared now!
You can read more about our commitment to safety & our other staff training on our blog by clicking here.
Stay up to date with all of our company news & blogs on Facebook, Twitter, LinkedIn & Instagram.
If you currently use our products, please feel free to tag us in your work. We love to see our customers creations & you may feature on our social media channels too!
You can get in touch with our team on our Contact page here.