Adhesives for Signs Making & POP
November 20, 2020
Anglo have been manufacturing and supplying PMMA adhesives into the Sign Making and POP industry since the early 1990's, making signs. Initially manufacturing Tensol under license for Perspex Distribution (formerly ICI), an adhesive primarily used to bond Cast Acrylics (Perspex), Anglo have worked hard to develop a full range of Adhesives, as well as a complete collection of cleaners, thinners, and polishes suitable for use in Sign Making that are capable of bonding other sheet materials like Extruded Acrylic, Polycarbonate, Mirror Acrylic, High Impact Polystyrene, Dibond, ABS, PVC, and much more, make signs.
Fast forward into 2020 and our industry-leading range of Acrylic Adhesives are utilized by Sign Makers around the United Kingdom and we also supply to businesses across the world, make signs. We pride ourselves on our ability to manufacture and sell all of our adhesives in any batch size, large or small, giving our customers complete flexibility when working with our products, make signs.
Alongside our incredible production team, here at Anglo we have an incredibly knowledgeable Technical Team who can assist our customers in deciding which adhesive is right for their specific needs, make signs and a sales team who will make sure their order is produced and delivered swiftly, make signs.
Our full range of Adhesives for Acrylic can be seen on the chart below and a high definition PDF copy can be downloaded by clicking here.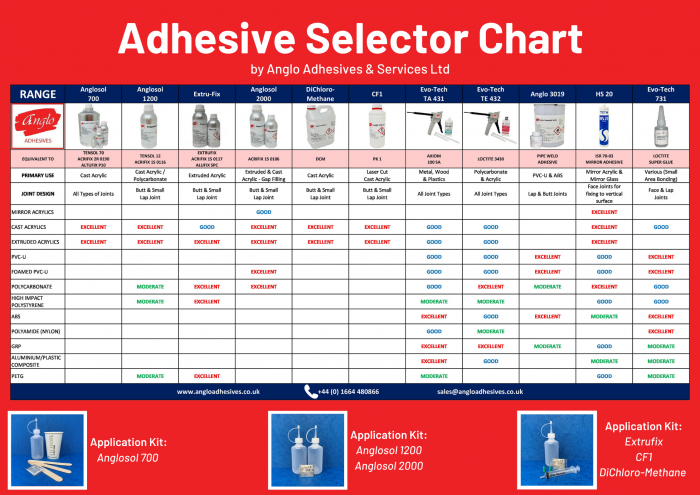 Below is the complete collection of our Cleaners, Thinners and Polishes for use with Acrylic. You can download a high definition PDF copy by clicking here.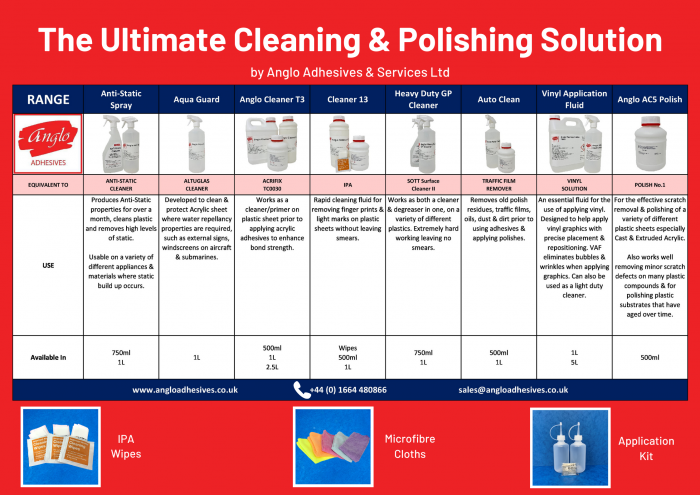 Have a question about our Adhesives, Cleaners, Thinners or Polishes for Sign Making & POP?
Contact our Technical Team by calling +44 (0) 1664 480866 or email us at sales@angloadhesives.co.uk
Stay up to date with all of our company news & blogs on Facebook, LinkedIn & Instagram.
You can get in touch with our team on our Contact page here.