30 Years – It's Been Good To Stick Around!
March 13, 2019
Today marks my 30-year work anniversary at Anglo Adhesives! I can't quite believe where the time has gone, but when I look back its been such an eventful career path what with take overs, acquisitions, sales etc, it's certainly kept me busy and given me first-hand experience of diversity.  At times it's been unbelievably hard work but thanks to some amazing colleagues I've been lucky enough to squeeze in some real fun along the way. I have two great women to thank namely Lorraine Wainwright and Sally Lawson who from day one taught me the ropes and inspired me to aim big, and without the true gentleman Brian Spencer I don't think I would be where I am today, the dedicated, loyal work ethic that he installed in me even trumped that of my parents! 
It goes without saying that my biggest thank you must go to the one and only Mr Peter Kinder, for seeing something in me from a young age that I never knew existed.   I have him to thank for nurturing me through the many different challenges business throws at you, and for giving me the freedom and support to explore and exercise my full potential in our fast-paced business and diverse industry.  His positive energy and can-do attitude is infectious and has given me the confidence to believe that anything is possible in any situation.  He is an incredible man to work for, and I respect and admire everything that he stands for.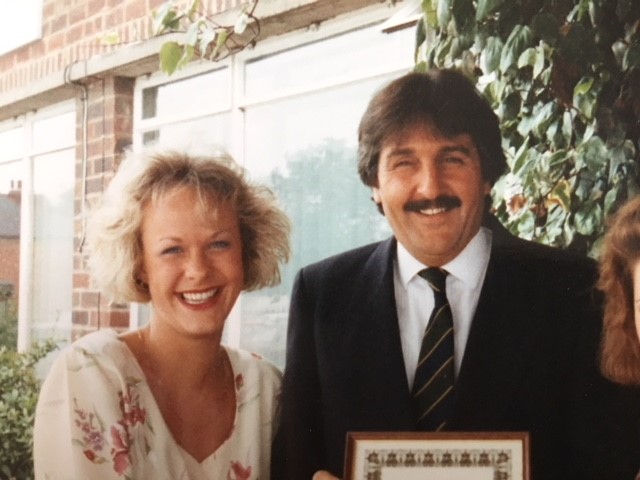 I must also thank our customers, our suppliers, our industry and the eventful world of manufacture, it's been a blast! I have been fortunate to see and be part of some amazing processes developed by exceptionally talented people as well as meet a great many kind, inspirational, funny memorable people over the years, some of which have become life-long friends. The future looks bright and so it won't stop there, I'm eternally grateful that my journey with Anglo will continue for a little while longer.  Apart from the fact I'm still of a tender age! there's still far too much left to accomplish with this great team of ours to stop …. my passion for the job, the people, the industry is as strong as ever, but today I will raise a glass (or two) to past successes ……… I am one lucky lady.
Learn more about Anglo Adhesives here.
Stay up to date with our company news & blogs on
Facebook, Twitter, LinkedIn & Instagram